일정한 품질을 위해 제조 공정의 각 단계마다 코팅의 점도측정은 필수적입니다. 많은 매개변수가 마감코팅의 유동학적 변화에 영향을 미쳐 일관되지 않은 성능, 불균일한 레벨링 또는 늘어짐과 같은 바람직하지 않은 영향을 초래할 수 있습니다. 따라서 고정밀 측정장비의 사용은 제형, 제조 및 적용 중에 발생하는 이러한 문제를 방지하기 위해 품질관리에 필수적입니다. Paintlab+Viscomixer는 용매 또는 시너를 첨가하는 동안 점도의 변화를 측정하는 데 사용되는 다양한 도구입니다. 3 개의 Viscomixer 모델이 제공되어 각각 테스트 샘플의 점도에 따라 다른 측정 범위를 제공합니다. 생산 배치의 샘플은 250ml 캔으로 빠르고 쉽게 측정할 수 있으며 생산공정으로 스케일링하기 위해 필요한 thinning 비율을 결정할 수 있습니다. 장비는 Poise(P)로 점도를 직접 측정하기 위해 562rpm의 고정 속도로 작동합니다.
FEATURES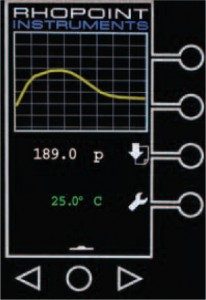 Precise Measurement
High stability motor speed control ensures accuracy and repeatabilty during each test.
Real-time high resolution graphing allows monitoring of changes during measurement providing identification of inconsistencies between samples.
Measurement results are displayed instantly on screen after test in all three units.
Advanced temperature monitoring
An integrated temperature probe accurately measures and records sample temperature for each test. As sample viscosity is influenced by test temperature, accurate monitoring and recording ensures reliability of test results.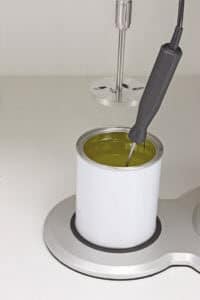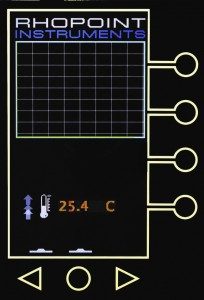 Automatic Operation
Fully automated operation saves time by accurately lowering the paddle into the sample to the correct height for a number of standard container sizes. Once the test has completed the paddle automatically raises to drain off, saving time during cleaning. The easy to use quick release magnetic paddle holder allows rapid removal for cleaning after use.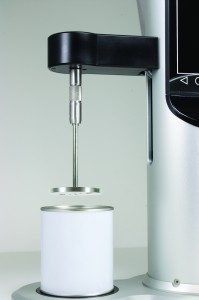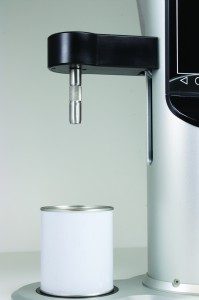 Paint Resistant Design
Lab-tough glass allows easy removal and cleaning of unintentional splashes and smears from the capacitive sense buttons and screen.
The solvent resistant anodised aluminium instrument chassis ensures the instrument can be cleaned and restored to pristine condition even in the toughest working environments.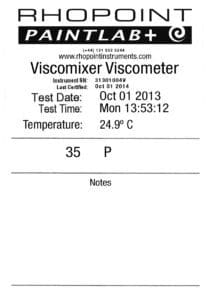 Data transfer
Measurement data including time, date and test temperature can be printed to a Rhopoint label printer (supplied as an optional accessory).
Printed labels can be attached to each sample for easy identification and recording of results.
Flexible range configuration
The Viscomixer can be configured for any of the three ranges by purchasing an additional paddle for the range required along with a calibration oil kit.
Full details of paddles available along with their respective calibration kits are detailed at the back of the brochure.
Calibration
Annual calibration can be performed remotely by the user using the Rhopoint certified recalibration kit. Step by step instructions and automatic verification ensure accurate, traceable results.